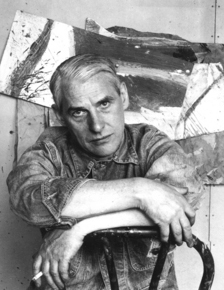 Willem de Kooning was born in Rotterdam in 1904. His career began in 1916 as an apprentice painter with the Gidding firm, where he produced decorative paintwork. In 1920 he became a decorator at a department store. Meanwhile he took evening classes for eight years at the Academie voor Beeldende Kunsten en Technische Wetenschappen in Rotterdam. From 1924 to 1926 he lived in Belgium and studied at the Royal Academy of Fine Arts in Brussels. In 1926 he moved to the United States.
In New York he developed an expressive style of painting, later known as Abstract Expressionism, characterised by the gestural application of paint and the suggestion of energy and strong emotions. De Kooning differed from the other Abstract Expressionists, who completely excluded recognisable motifs from their works, by painting traditional subjects such as women and landscapes.
De Kooning had his first exhibition in 1948 at the Egan Gallery in New York. In 1950 he represented America at the Venice Biennale together with Jackson Pollock and Arshile Gorky. His work was first exhibited in the Netherlands in 1958 at the Haags Gemeentemuseum in a group show of American modern art. He attended the opening of his retrospective exhibition at the Stedelijk Museum in Amsterdam in 1968.
He made his first sculptures, a series of expressive figures in clay, in 1969. The English sculptor Henry Moore suggested that he have them enlarged and cast in bronze. He then made several large-format bronze figures; until 1975 he made approximately twenty-five female figures in bronze. In the 1980s de Kooning developed Alzheimer's disease. He died in East Hampton, New York in 1997, the same year that Rotterdam's art school was named after him.